Meet the Universal Nutcracker:
Universal? You may be thinking, "nutcracker appropriate for any occasion" but you would be wrong. What we're referring to here is The Nutcracker as trademarked by the Universal Orlando Resort. You know - the one they use in the Macy's Thanksgiving Day Parade.
45'
— It's as tall as about 8 adult male Mensans standing atop each others' heads!
If you visit the link below, you'll see that all the balloons are indexed from left to right near the bottom of the window. The Nutcracker is second from the last. Some interesting stuff!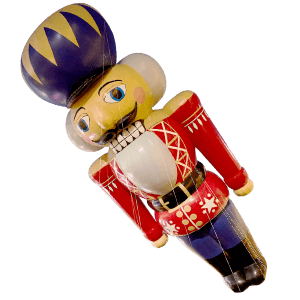 ---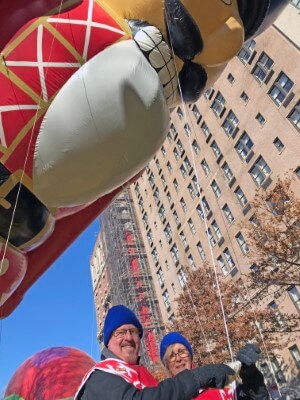 (Click for enlarged pic in new tab.)
November 22, 2018
It's the day of the parade, and along with 30-mile-per-hour winds, the forecast high temperature is
20°!
This wasn't an official RAM event, but we were well represented: This photo is of our Local Treasurer Jeff Gould and his wife Kim. They were handlers for The Nutcracker balloon on Thanksgiving Day... On the coldest Macy's parade day ever!
2018 Macy's Thanksgiving Day Parade is coldest on record - Al Roker has the original full report from 11/22/2018